Cat 6a, Cat6a, Cat6e, and Cat 6e Cabling Abilities for Dayton, Columbus, and Cincinnati, Ohio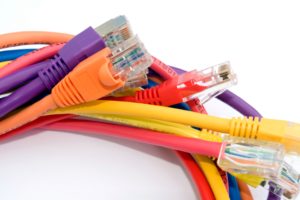 At Ohio Tele-Net LLC, we take pride in offering high-quality data cabling solutions to businesses in Dayton, Columbus, and Cincinnati, Ohio. Our expertise lies in Cat 6a, Cat6a, Cat6e, and Cat 6e cabling, which are crucial components for establishing efficient Local Area Networks (LANs) in today's fast-paced IT-driven world. In this article, we will explore the capabilities and advantages of these cabling options, and how our professional service, repair, and installation offerings ensure optimal performance for your ethernet network.
Cat 6a Cabling: Unleashing High-Speed Data Transmission
Cat 6a cabling is a superior choice for organizations seeking to optimize their network's data transmission capabilities. With its enhanced performance characteristics, Cat 6a cabling supports data rates of up to 10 Gbps, making it ideal for high-bandwidth applications and data-intensive tasks. Whether it's large file transfers, video conferencing, or multimedia streaming, Cat 6a ensures smooth and uninterrupted data drops, elevating the efficiency of your LAN.
Cat 6e Cabling: The Future-Ready Solution
Embracing the latest advancements in data cabling technology, Cat 6e takes network performance to the next level. This cutting-edge cabling solution boasts data rates of up to 500 MHz, providing businesses with the capacity to meet future bandwidth demands. By investing in Cat 6e cabling, organizations in Dayton, Columbus, and Cincinnati, Ohio, can future-proof their networks, reducing the need for frequent upgrades and minimizing downtime.
Structured Cabling for Seamless Connectivity
Structured cabling serves as the backbone of modern IT infrastructures, delivering organized and efficient network connections. Our team at Ohio Tele-Net LLC specializes in designing and implementing structured cabling solutions tailored to the unique needs of your business. With careful planning and strategic installation, we ensure optimal connectivity, minimal signal loss, and reduced interference, resulting in a reliable LAN that fosters productivity and growth.
Enhanced IT Services for Optimal Network Performance in Dayton, Columbus, and Cincinnati, Ohio
At Ohio Tele-Net LLC, we go beyond cabling installations to provide comprehensive IT services for businesses across Dayton, Columbus, and Cincinnati, Ohio. Our team of skilled technicians is equipped to handle various network challenges, from routine maintenance to complex repairs. With a proactive approach to IT service and repair, we ensure your network remains resilient, minimizing disruptions and potential downtime.
Professional Installation for a Seamless Experience
The success of your LAN heavily relies on the quality of its installation. Our team of certified professionals excels in deploying cabling systems with precision and expertise, adhering to industry standards and best practices. Whether it's a new setup or an upgrade, our seamless installation process guarantees efficient data transmission, maximum network uptime, and a robust LAN foundation.
Advantages of Ohio Tele-Net LLC Services in Dayton, Columbus, and Cincinnati, Ohio
Unrivaled Expertise: With years of experience in the industry, we possess the knowledge and skills needed to optimize your network's performance.
Customized Solutions: We understand that every business has unique requirements, and our solutions are tailored to meet your specific needs.
Reliability and Efficiency: Our commitment to delivering reliable services and prompt assistance ensures minimal downtime and improved productivity.
Cost-Effectiveness: By investing in our services, you save on future repairs and upgrades, making it a cost-effective solution for your business.
In conclusion, Cat 6a, Cat6a, Cat6e, and Cat 6e cabling solutions offered by Ohio Tele-Net LLC empower businesses in Dayton, Columbus, and Cincinnati, Ohio, with high-speed, reliable, and future-ready data connectivity. Our professional service, repair, and installation ensure optimal network performance, seamless data drops, and an efficient Local Area Network. Embrace the power of advanced cabling technology, and let us elevate your business to new heights.
For more information about our services, please visit our website at https://ohiotele.net or https://ohiotele.com.
Technical Document: Cat 6a (Cat6a) and Cat 6e (Cat6e) Cable – Speeds and Abilities
Introduction
Cat 6a (Category 6a) and Cat 6e (Category 6e) cables are advanced versions of Cat 6 (Category 6) cables, designed for modern Ethernet networks. This document explores their speeds and abilities, providing details about specifications, advantages, and functionalities.
Cat 6a Cable
Cat 6a cable follows the TIA/EIA-568 standard and consists of four twisted pairs of copper wires with a robust jacket. It supports higher data transfer rates, ideal for high-performance applications and data centers.
Cat 6e Cable
Cat 6e is not an official standard but refers to cables with improved performance over Cat 6. They use tighter twists, high-quality materials, and added shielding for reduced crosstalk and better signal integrity.
Speeds and Data Transfer
Both Cat 6a and Cat 6e cables support up to 10 Gigabits per second (Gbps), known as 10G Ethernet. They offer faster and reliable data transmission in high-bandwidth environments.
Abilities and Advantages
Cat 6a and Cat 6e cables offer the following advantages:
10G Ethernet Support: They handle data-intensive tasks like video conferencing and large file transfers.
Improved Signal Integrity: Tighter twists and enhanced shielding reduce interference, improving signal quality.
Backward Compatibility: They integrate seamlessly with existing networks using older Ethernet standards.
Future-Proofing: With 10G Ethernet support, they are prepared for future technology advancements.
Limitations
Consider these limitations:
Distance: Both have a maximum effective transmission distance of 100 meters (328 feet).
System Compatibility: Full 10G Ethernet speed requires compatible components.
Conclusion
Cat 6a (Cat6a) and Cat 6e (Cat6e) cables offer 10G Ethernet speeds and improved performance. They are reliable options for modern networks, providing fast and stable connectivity for various applications. Note the distance limitations and system compatibility. For higher data rates, consider Cat 7 or fiber optic cabling. Nonetheless, Cat 6a and Cat 6e remain efficient choices for Ethernet networks.